Winter Garden Yard Greetings
Also Servicing Clermont, Minneola and Surrounding Areas!
Happy Birthday Yard Signs
Happy birthday, yard signs are the perfect way to celebrate your loved ones' birthday. Do you know someone that has everything? If you are looking to have a great time and impress your loved one, getting happy birthday yard signs are perfect and you don't have to do anything. We do all the work for you, we come out and put the signs in for the day and come back to pick them back up. It is that simple. If you are looking for fun creative ways to celebrate any event, give us a call or reserve them online. We not only offer happy birthday yard signs but also yard decorations for your 50th birthday, birthday yard signs, celebration yard signs, and more. We work hard to ensure that everything is perfect for your celebration. We take the extra time to arrange the signs in a way that is festive and fun. As you can see from our displays here online, we have a few of everything. So, if you don't see the arrangement you'd like, ask! We are happy to use our signs in various combinations to get it right. Our happy birthday yard signs are made from durable materials that can hold up under raining conditions. We don't want you to have to worry about them. They have long stakes so that they don't blow away either. We want you to enjoy your signs for the day. These make great photo props as well. Announce engagements, they are not to be used as just happy birthday yard signs, but for any occasion that you are celebrating.
If you see particular signs that you like and want to combine and mix them up for your own custom look, give us a call. These signs are very versatile and look great in your loved ones' work yard as well! Yes, we have set up signs at work and school that announce the special day and event. Clearly, we offer different name spellings as we have some displayed here on the site. The possibilities are endless with the number of yard signs we have to choose from. We work hard to make your loved ones day special and it shows. Take a look around and we are certain that you will fall in love with this idea and come back year after year. Did your friend just have a baby and is coming home? This is the perfect way to announce the baby's arrival in the world! We can announce the baby's gender or maybe their name? The parents will certainly have a smile when they see that sign in their yard and know that they are truly loved. Having a baby or wedding shower? Think of the guest of honor as they turn the corner to arrive and see this magical display. Everything will be bright and colorful some are sparkly but most of all they are all in good fun. Decorate your lawn with happy birthday yard signs today! Remember it is not for just birthdays! And, there are a few different options to choose from so take a look around.
We deliver and set up!
We proudly deliver to Winter Garden, Davenport, Clermont, Kissimmee, The Villages, Groveland, Windermere, Minneola, Ocoee, Oakland and surrounding areas! For free to contact us by phone (786)525-4002 or fill out the contact form at the bottom of this page to send us a direct email! Yard greeting signs are our specialty but we also offer inflatable bounce house rentals on our website BounceHouseBros.com as well as event rentals such as formal chairs, backyard chairs and an arrangement of tables, linens and more! We are a true one stop shop for all of your event and party needs.
Make Your Occasion Extra Special with a Yard Greeting from Winter Garden Yard Greetings
How to order: Choose your Date then Either Choose from one of our Custom Themed Sign Packages or Create Your Own.
Order-by-Date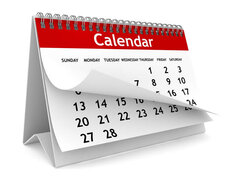 Themed Signs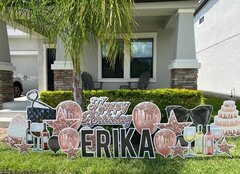 Thanks for all of your continued support!
***
Let Us Brighten Someone's Day
Established in May 2016 just in time for the busy Graduation season and hit the ground working to make people smile all over town!! We are the 1st yard greeting business of it's type in Winter Garden. Yard Greeting Signs are the newest and innovative way to surprise your loved ones on a special day.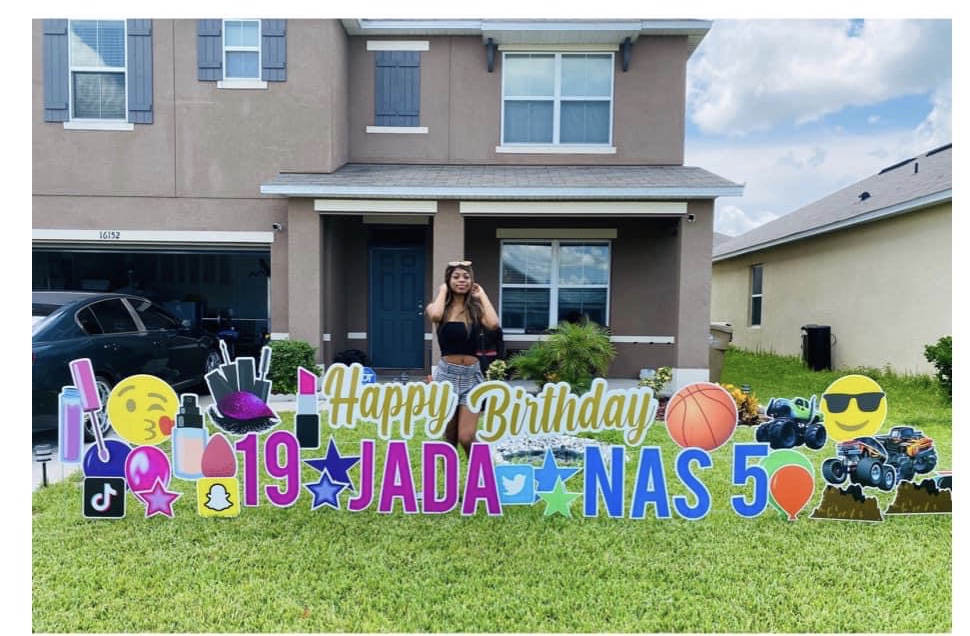 We pride ourself in above and beyond customer service, attention to detail and the most unique collection of fun graphics exclusively. Our yard greetings can't be beat...why settle for anything less than the BEST! Such a wonderful way to celebrate your loved one just by contacting us, providing some details and we take it from there. The result is a larger than life display that is guaranteed a memorable moment and smiles for days!